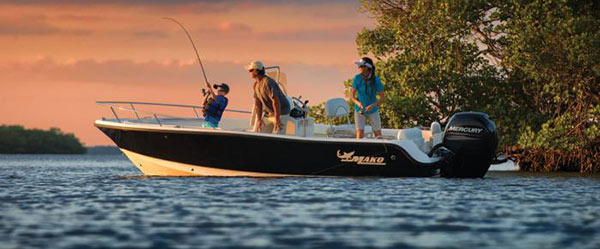 A Center Console Boat is a type of boat where the steering console is located in the center of the boat halfway between the stern and the bow. These type of boats are usually very popular with fisherman, because of the design it gives more room to move and not be restricted. The hull on these type of boats is either made of  Fiberglass or aluminum. Some Center Console boats come with a T-Top addition to help provide shade on those extra sunny days.
Center Console Boats Are Versatile
Even though these boats are primarily favorites among fishermen, there are many other activities these boats are used for such as skiing, diving, and tubing. With most of the weight in the center of the boat, center console boats provide excellent maneuverability, which of course leads to great skiing and tubing. There are many additional options you can get on your boats such as rod holders, livewell bait tanks, and ice lockers to name a few.
If you are looking to buy a Center Console boat some popular manufacturers are:
Mako
Boston Whaler
Carolina Skiff
Everglades Boats
Century Boats
Grady-White Boats
Hydra-Sports
Pursuit Boats
Regulator
Trophy
World Cat
The best advantage of a center console boat is just the overall space it provides. Another great aspect is the overall viewing angles while driving from being in the center of the boat. Plus the ability to make tight turns and easy accessibility to any fishing rod.
If you are looking to buy a new Center Console Boat but need to sell your old fishing boat or any type of boat, contact Sell Us Your Boat. Also, we will give you top dollar for your used boat, just use our simple quote form and we will contact you with a generous offer, just that simple. Contact us today to get the money you need to buy the Center Console Boat you have been wanting, and enjoy your next fishing trip or fun time on the lake.