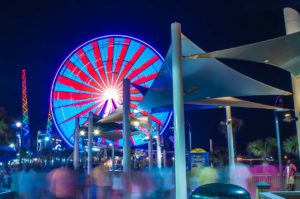 While people in the North are done celebrating the "Boating Solstice" folks in South Carolina are enjoying the Atlantic coast and all it has to offer. Winter in the Midwest is cold and miserable, but here in Carolina, we get to enjoy being outside in the nice weather for spring break.
Being able to live on the Atlantic coast of South Carolina in cities like Myrtle Beach, Charleston, and Hilton Head really makes the winters more bearable. I mean, most people come out to this area for their Spring Break, while we just get to enjoy it and have an awesome Southern Carolinian staycation.
 We know that you are getting ready for Spring Break and what better way to spend it than on your boat. Getting out on the water is the best part about living in the Carolinas (and Georgia). How is your boat doing though? Has it seen better days, or do you just need some extra cash for Spring Break vacation? Why not sell it for easy cash!
Selling Your Old Boat For Vacation Money This Spring Break
If you need some quick cash for your Spring break or new boat purchase this year, we here at SellUsYourBoat can help. We know that having an old worn-out boat you don't use creates a financial burden. Well good news for you, we'll buy that old used boat off you for cold hard cash! We wanted to get into the boat buying industry to create a user experience that rivals the rest. This is why we created our free online quote system. We made the process so easy and simple that getting a free quote for your boat will be as easy as 1-2-3!
Simply go to our quote page and tell us all about your used boat. We'll come back with a free quote for your boat and if you like it, we'll come and get it! We frequently make trips in the I-75 corridor, and stopping off in North or Southern Carolina isn't out of the question.
So why delay? Get your old boat out of your garage and get yourself some cash! Get your free quote today!