Now that the winter is breaking and summer is just around the corner, the great Florida migration has begun. The snowbirds that nested for the winter begin moving back up North and take their belongings with them. One big item that is hauled and goes back with them is their boats and yachts. From small boats to giant yachts these vessels will need to be transported away from the Sunny Florida waters and up to place like New England, the Midwest, and sometimes the Pacific NorthWest. For people who love their boat, a summer without it isn't an option.
Transporting Your Boat North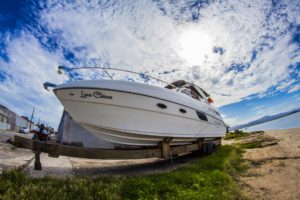 The cost involved with transporting these mega boats make you wonder why people even bother. For the cost to get your boat from one marina to another can cost thousands and thousands of dollars. Plus if your boat has seen better days, then why bother? You might be asking yourself "How much does shipping my boat cost" and "Is it worth the cost to me"?
We recommend getting a quote on how much it will cost to haul your boat to your final destination and see if it's worth it to you before committing.
Sick of Forking Out For Your Old Boat?
If the cost of maintaining and hauling your boat back and forth from home to Southern Florida has you fed up, you should just sell the old girl. Selling your boat can be a pain, but at least you won't have to fork out thousands of dollars each year. But where to sell your boat? We'll that's where we come in.
We here at SellUsYourBoat.net are always looking to buy used boats off their worn out captains. We buy every type of boat, from sailboats to racer boat, fishing boats, cabin cruisers, and personal watercrafts alike. Just tell us about your boat, and we'll give you a price we'll pay for it. If you like it we'll take care of the rest.