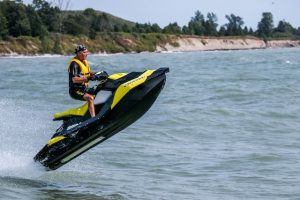 Sell Us Your Boat is the best way to sell your jet ski! 
Driving a Personal Watercraft can be a thrilling and fun experience. PWC as they are known, allow riders to zip across the water, enjoying the summer sun and cool water. If you cannot afford a traditional boat, these watercraft are the perfect alternative. As a result, there is always a demand for Jet Skis, Waverunners, and Sea-Doos. But what is the best way to sell your jet ski?
Preparing to Sell Your Jet Ski
If you are planning to sell your used watercraft, there are a few things that you should have prepared before looking for a buyer. First of all, you need to find all the necessary documents. This includes:
Bill of sale
Certificate of Registration
Title
Proof of loan payoff
Trailer documents
In addition to these documents, you need to check the state of your PWC to see if it's capable of running properly and if the features are intact. After you test the watercraft's functionality, you should polish and clean your jet ski. It also might be a good time to do some initial research into your jet ski's model and what the average price is for resale.
Sell Your PWC With Ease
If you are selling a used jet ski, there are only a few options. Some dealerships are willing to buy used Personal Watercraft. While selling to a dealership may seem easy, you'll need to take it to them where they might not buy it or offer you too little.  The other option is to sell privately. Selling privately can be a hassle. In addition to advertising, there are meetings, negotiating prices, arranging pickup or delivery, and handling paperwork. Not to mention having to deal with test drives and other issues when closing a deal. Fortunately, you can sell your PWC with ease and avoid all of these hassles with a free quote request and a quick call from Sell Us Your Boat!
---
Do you know the difference between a Jet-Ski and Sea-Doo? Click here!